One of the easiest ways to take your luxury Pasadena home to the next level, is to create your very own home spa. Whether you're upgrading your master bathroom for yourself or for potential buyers, the following upgrades will add immense value, luxury, and relaxation to your space. Keep in mind that all bathroom upgrades will require a
residential bathroom remodel permit
with the City of Pasadena, but your contractor should be able to assist you with the permit process.
1. Revamp your shower
In terms of return on investment (ROI), one of the most important areas to upgrade in your master bathroom is the shower. Most Pasadena home buyers will be motivated by a large shower with modern, luxury amenities, and a large shower provides wall space for amenities such as detachable showerheads or steamers. Consider a
frameless glass entry
for your shower doors. These entries remove the lip of the basin and eliminate a common trip hazard. The shower's overall design can be upgraded by selecting stylish tiles and an intriguing shower basin—just be sure to coordinate the rest of the bathroom's aesthetic. Some other spa-like upgrades include heated floors in the shower as well as multiple showerheads. For a true spa experience, you may want to invest in a steam generator to have your shower double as a steam room.
2. Replace your bathtub
A bathtub is another important feature in any Pasadena home's master bathroom. When selecting a tub, you have to take into account a myriad of factors, including your bathroom's design aesthetic, your preferred bathing habits, and placement. If you want to add a wider rim for holding candles, plants, and bath accessories, consider installing a drop-in tub— a tub with a frame around it. If your bathroom has a window, or you plan to add one, you may want to place the tub in a way that allows you to enjoy the view while you soak. If the tub is against a wall, built-in shelves nearby can be used for bath accessories and make for a valuable, functional addition.
3. Opt for environmentally-friendly toilets
For the toilet, popular upgrades in homes for sale in Pasadena include switching to a dual flush, tankless, or smart option. With the dual flush, you can select the amount of water pressure for each flush, allowing you to conserve water. Tankless options are perfect for smaller spaces and are a wise consideration when placing the toilet in a separate water closet or behind a small wall. Tankless options are also a more environmentally-friendly choice as they use much less water. For an even more luxurious choice, consider a
smart toilet
, with features such as nightlights, hands-free lids, heated seats, and self-cleaning options. You may also want to consider adding a bidet feature or installing a separate bidet.
4. Modernize your sinks
When selecting a new sink for your Pasadena luxury home, there is an abundance of options to choose from. Consider a vessel design, which consists of a freestanding sink basin that rests atop the counter. Popular in contemporary and modern design, these sinks work best with freestanding or wall-mounted faucets, since the design of the sink necessitates a separate faucet. Additionally, for the master bathroom, two sinks are always preferred.
5. Improve your storage
Cabinetry
It's important to invest in aesthetically appealing cabinetry (particularly for luxury homes for sale in Pasadena) since vanities tend to be the focal point of most master bathrooms. Choose a vanity that matches the overall color palette and aesthetic of your bathroom and be sure it doesn't clash with other focal points of the space (i.e. the shower or the bathtub). Your vanity needs to be large enough to fit two sinks. If the space allows, you may also want to install a closet in the bathroom for holding linens and necessities.

Shelving
By including an intuitive shelving design into your Pasadena bathroom, particularly near the tub and bathroom vanities, you provide space not only for amenity storage but for the display of decors such as plants and photos. This kind of shelving provides function but adds valuable visual interest to the space.
6. Add a heated element
Heated flooring is a sought-after luxury amenity in master bathrooms, as it adds needed warmth and comfort to tiled, naturally cool spaces. Additionally, a heated towel rack is great for creating a luxurious, spa-like feel in your Pasadena home.
7. Accent with lighting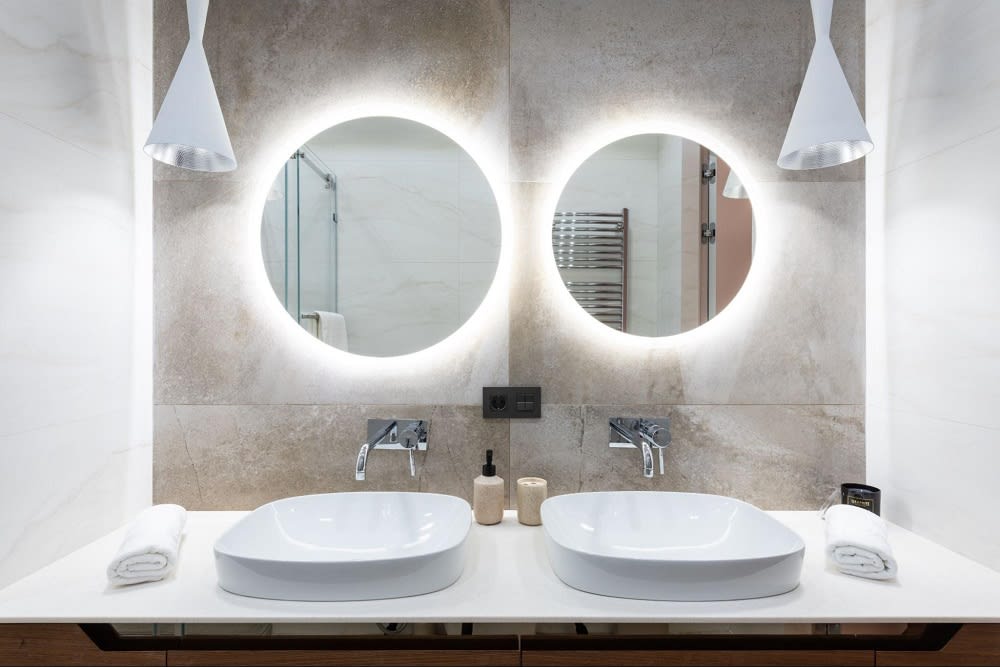 When it comes to setting the mood for a spa experience, lighting is key, and it's important to include a variety of lighting options. Bright lights above the vanities and shower add to an inviting atmosphere. Lights on separate switches or dimmers, provide soft and comfortable light perfect for enjoying a long soak in the tub. You may even consider adding floor lights around the baseboards of the room to serve as nightlights. Updated lighting offers great ROI to homeowners selling Pasadena real estate, as it's easy to install, functional, and energy-efficient.
Are you ready to list your Pasadena luxury home for sale?
Whether you're ready to list your Pasadena real estate—or seeking a Pasadena home with a perfectly remodeled master bathroom—reach out to trusted local agent
Amy Engler
for expert guidance. Amy will make your home buying or selling experience rewarding, stress-free, and personal.
Contact Amy and her team today
!